Massage device +cryolipolisis machine
Product Detail
Product Tags
The equipment is safe and painless, without surgery, anesthesia, medicine and side effects. It has won FDA and CE international certification, and its safety and effectiveness have been widely recognized.
Cooling diamond sculpture uses semiconductor silica gel head, 360 ° surround refrigeration, heating and vacuum negative pressure technology to reduce local fat by non-invasive freezing method. Before cooling, you can freely choose a heating stage between 37 ℃ and 45 ℃ for 3 minutes to accelerate local blood circulation,then it cools itself and delivers accurately controlled frozen energy to the designated part. After the adipocytes are cooled to a specific low temperature, triglycerides change from liquid to solid. The crystalline aging adipocytes will gradually apoptosis within 2-6 weeks, and then excrete them through autologous lymphatic system and liver metabolism, which can reduce the thickness of fat layer at the treatment part by 20% - 27% at a time, eliminate fat cells without damaging surrounding tissues, so as to achieve the body shaping effect of local fat dissolving. Cooling fat dissolving can fundamentally reduce the number of adipocytes and hardly rebound!
Em-sculpt uses high-intensity focused magnetic resonance wave technology to trigger muscle high-frequency contraction and drive muscle contraction for up to 30000 times in 30 minutes. High frequency and strong exercise contraction can strengthen muscle and build muscle. At the same time, it helps fat cells metabolize and decompose strongly, bringing new scientific and technological experience to body shaping. Lying down can not only tighten muscles, but also lose weight. There is no discomfort during treatment. There is no need for recovery period after treatment.It's applied to target parts such as abdomen, upper arm (biceps, triceps), thigh and so on.For men and women who want to quickly lose fat and gain muscle or change their body shape, it's an innovative device for postpartum women who can achieve the separation of abdominal muscle vest line, peach hip and rectus abdominis with no time or difficulty in exercising. "Emsculpt" allows you to easily lie down to increase muscle mass and reduce fat, and the effect is remarkable.
Principle of Em-sculpt
Em-sculpt uses non-invasive high-intensity focused magnetic vibration (HIFEM) technology to release high-frequency magnetic vibration energy through two large treatment handles to penetrate the muscles to a depth of 8cm, and induce continuous expansion and contraction of muscles to achieve high-frequency extreme training , to deepen the growth of myofibrils (muscle enlargement), and produce new collagen chains and muscle fibers (muscle hyperplasia), thereby training and increasing muscle density and volume.
The 100% limit muscle contraction of HIFEM technology can trigger a lot of lipolysis, Fatty acids are broken down from triglyceric acid, and accumulated in large amounts in fat cells. The fatty acid concentration is too high, which will cause fat cells to apoptosis and be excreted from the body by normal metabolism within a few weeks. Therefore, HIFEM beauty muscle instrument can strengthen and increase muscles while achieving the effect of reducing fat.

Freezing principle
By using 360°semiconductor silica gel freezling technology to reach the ideal temperature that can cause fat cell apoptosis--5°C to -11°C,which is the cooling energy to achieve a non-invasive and powerful lipid-lowering effect.Different from fat cell necrosis, fat cell apoptosis is a natural form of

decreased number of fat cells in the abdomen.
cell death. It is to maintain internal environment stability. Cells die in an autonomous and orderly manner, thereby effectively reducing fat cells without causing damage to surrounding tissues.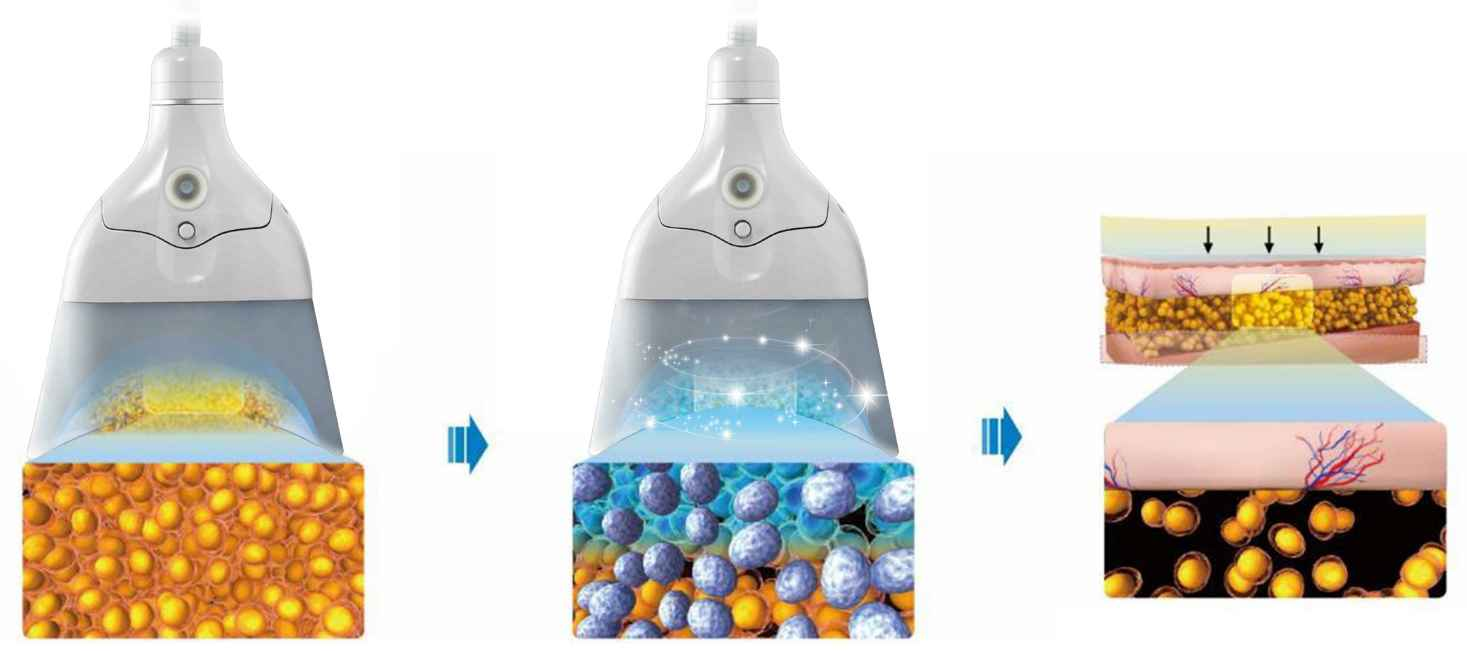 1.The treatment head is attached to the treatment area.
2. The cooling energy treats the target fat layer without damaging.
3. Damaged fat cells are broken down and cleared through the natural body process (apoptosis).
Fat cells killed by apoptosis are absorbed by macrophages (cells fall off and die according to the law of growth). Dead cells will be treated as trash by the body and will be excreted naturally within 2-4 months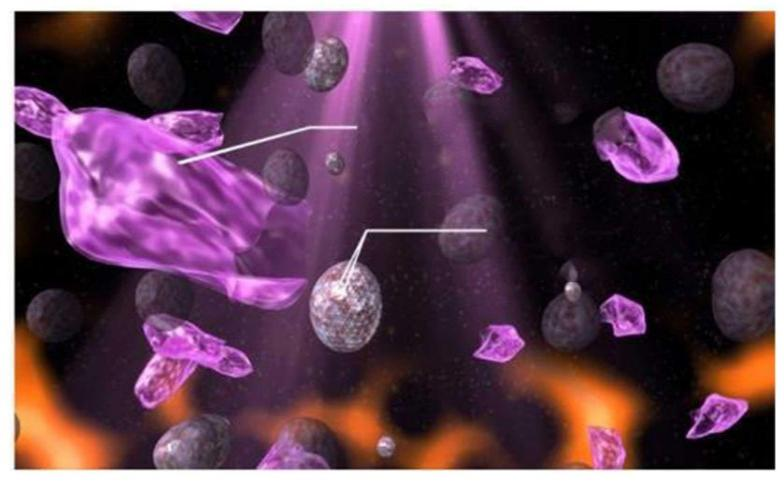 The subcutaneous fat layer is reduced

A.The instrument must use a plug with a grounding pin, and ensure that the power socket of the instrument is well grounded.
B.The power supply used should be consistent with the specified power supply value marked on the machine, otherwise the machine may not work or even burn out the main board parts of the machine.
C.Ensuring that the power supply is stable and adapted. If the local power supply voltage is unstable, it's recommended that the user add a regulated power supply with matching power.
Special reminder: The power cord of the socket is required to be more than 1.5 square meters.
D.When using the instrument, please keep away from the wall and keep a 30cm space around the instrument for heat dissipation.
E.The instrument is a high-precision electronic instrument, please don't place the instrument in a high temperature and humid environment.
F.The instrument uses an LCD touch screen. When tapping, try to tap with your fingertips instead of sharp objects.
G.Each accessory is a precision device, so when it is in use and after use, care must be taken to maintain it to avoid shortening its service life.
H.After each use of the accessories, it's recommended to clean them with saline and then dry them with a dry cloth.
I.Don't use alcohol or corrosive solvents to clean the host and handle to avoid damage.
J.When using accessories, try to handle them gently, and don't drop them by gravity to avoid damage to the handle.
K.When in use, the cord hose of the handle avoids extreme bending and damage
L.When the instrument is not in use, please turn off the power, then unplug the power plug, and place various accessories of the instrument. If possible, cover the instrument with a dust cover.
M.If it's not used for a long time or when it is being transported, the water should be drained clean.
N.It's strictly forbidden to disassemble and modify the equipment without authorization.
O.If the equipment fails, it should be shut down immediately, please contact us.
Product name
Two in one freezing+Em-sculpt
Technical Principle
Freezing + High intensity focused magnetic wave
Display screen
10.4 inch large LCD
Magnetic vibration intensity
8-100%(7 Tesla)
Output frequency
5Hz-150Hz
Cooling temperature
1-5 files (cooling temperature 0℃ to -11℃)
Heating temperature

0-4 gears (preheating for 3 minutes, heating temperature 37 to 45 ℃)

Vacuum suction
1-5 files (10-50Kpa)
Input voltage
110V/220V
Output Power
300-5000W
Fuse
20A
Air box size
72×55×118cm
Air box weight
20kg
Gross weight
97kg
---
Previous:
HIFU congelado JDS-240
Next:
HIFEM(Upgrade version)
---
Write your message here and send it to us